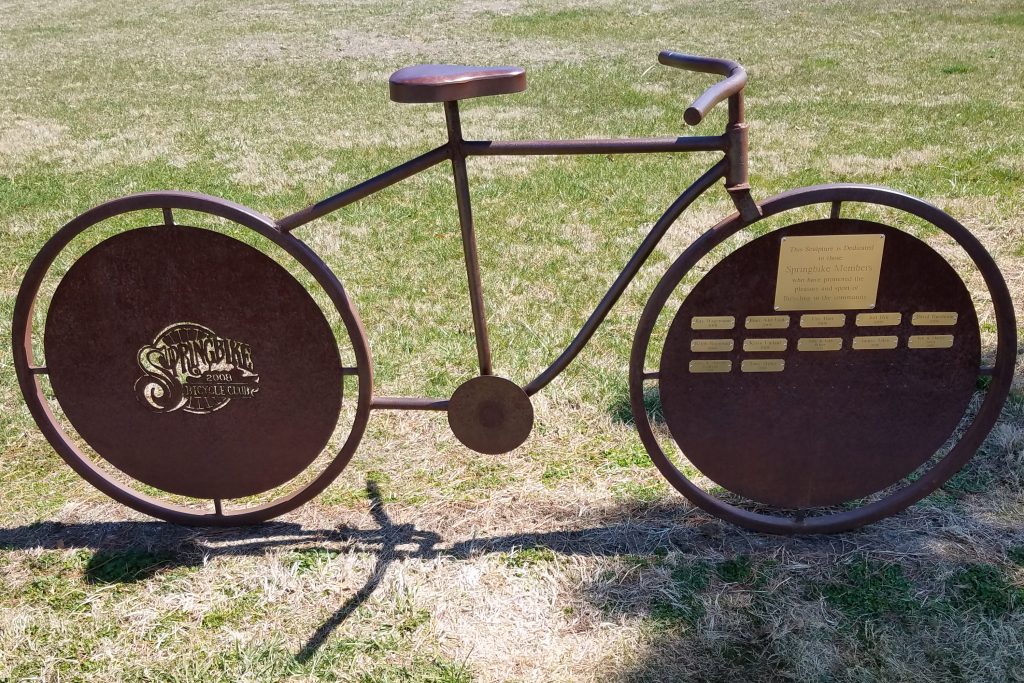 The Springbike Honor Sculpture bicycle memorial was started in 2008 to honor Ray Wageman, who served as a leader of Springbike for many years. Ray served in numerous leadership roles, including Springbike President. He led the Christmas light rides in the '90s and early 2000s. Ray passed away in 2014 at age 89.
In addition to Ray Wageman (2008), the following Springbike Members are honored on the sculpture: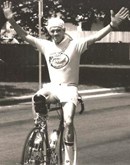 Bruce Adib-Yazdi (2009) was an especially active supporter of Springbike, Ozark Greenways, and MS Bike Tour in the '90s and 2000s. Bruce organized and chaired the Ozark Greenways' Advocacy (Let's Go Smart) Committee and chaired the City of Springfield's Bicycle Plan Committee from 2004 to 2006. Bruce was the lead advocate to mark bikeways on streets in the City of Springfield.
Kevin Umlauf (2009) was manager of Sunshine Bike Shop and later purchased the shop from Bob Scott. Kevin was a strong supporter of the MS Bike Tour and Springbike, especially with SAG and maintenance on bike rides. Kevin passed away early in life in 2006. Kevin was a friend to all cyclists and started the SAG support of rides by showing up with the Sunshine trailer.
Coy Hart (2009) was a regular rider and member of Springbike and Ozark Greenways. Coy was an education advocate and brought others into bike education. Coy became an American League of Bicycling Cycling Instructor in 2003 and organized about three street cycling classes per year for approximately 10 years. Coy passed away in early 2018.
Bill Hill (2009) served as the Springbike ride coordinator in the mid-2000s. Bill has also served as organizer for the Springbike Queen City Century numerous years.
Ralph Rognstad (2009) was Assistant Planning Director at the City of Springfield for 27 years (1987-2014). Ralph was active in Ozark Greenways, Springbike and RUSA. Ralph supported bikeways on streets and an integrated trail system. Ralph conceived of The LINK as a bikeway on low volume, low-speed streets. When the City had to lay off staff that supported neighborhood planning projects in 2010, funding was moved to the LINK fund through Ralph's encouragement and construction of LINK facilities began in 2011.
David Hutchison (2009) worked for City of Springfield for 32 years (1985-2017) as an engineer in Traffic Engineering Division. David directed the development of the bikeway plan and the implementation of bikeways on streets, the LINK bikeways, and integration of the trail system the on-street bikeways. David has been on the Tech Committee and the Advocacy Committee of Ozark Greenways for 20 years and served on the board from 2009 to 2016. David has been encouraging bicycle education and has been an American League of Bicyclists Cycling Instructor since 2003. David has been a Springbike member for nearly 20 years and Advocacy Chair for about 10 years.
John & Jean White (2009) have been active with Springbike and the MS Bike Bike Tour for many years. John has marked routes for years and helped set up the marking guides and policies that are used now.
Gary & Marlene Ledford (2016) have been active with Springbike for many years. Gary setup and marked the ride routes and he keeps the Springbike Annual Ride Calendar Worksheet current.
Bill & Marlee Alter (2016) was president multiple years, organized meals with evening rides. The Springbike trailer was purchased under Bill's leadership and ride signs were created. Marlee has assisted with many rides and supported Bill's involvement and activities in Springbike over the years.
Tony Miller (2016) served as the Springbike president after Bill Alter. Tony was introducing current members to Springbike Ride 18-20 years ago and coaching them to help them become better at road biking. Tony has been a regular participant of the Ride of Silence and the Moonlight ride.
James Allen (2016) owns and operates the Bicycle Museum on Commercial Street with his extensive collection of bicycle history. James rides the Pennyfarthing high wheel bikes and has made numerous long distance trips on them, including coast to coast. James has been on the Springbike board.
Randy Fry
Well before becoming Springbike president for 3 years, you could find Randy out leading a group of beginning riders. He has a natural charisma and truly wants to help people ride their bike. He showed Springbike a template on how to promote bicycling in this community. He in many ways sets the standard that this sculpture is designed for.
Larry Yates
Larry was a humble man. He had a bicycle teaching style that made you want to learn to be a better bike rider. In the early years of Springbike Larry would attend the Saturday rides and he started talking about drafting to all the beginning riders that wanted to learn. Over the years I have often wondered if he offered to teach us for his own self preservation. You know how beginners are, all over the road with no group etiquette. He probably wanted us to quit swerving all over the road in front of him, he was legally blind. That physical limitation continued to worsen over the years. One day he got lost on his daily route. He couldn't remember how many roads he had crossed and that ended his solo riding career. He talked a Springbike member into riding a tandem with him to the weeknight club rides. That member still rides a tandem today and is a current member of our tandem club.
David Ritchie
David was Springbike president in its heyday with well over 400 members. That doesn't happen by accident. David worked hard at membership recruitment. He did that by having cookouts and providing a slice of watermelon in the parking lot of the weeknight rides. He is also a caring individual and a talented long time biker.
Bill Dedmon and Linda Brewer
I am joining these two names because they worked so well together. It is only fitting that they share a marker.
Bill and Linda worked as timers for the Springbike time trials. First at the Willard school, then at the Stratford route and finally at Wilsons Creek. In the summer they spent every Thursday standing in the sun keeping time. With their help Springbike membership grew since the time trials were very popular.
Tom Johannsen
Tom in his younger years liked to race bikes. That interest lead him to get a group of riders together and form Springbike. Tom was our first president in 1983. He also started the time trials that drew so many people into cycling.
Earl Holmer
Earl started a little shop that we have all enjoyed over the years, Sunshine Bike shop. In the early years Earl was a strong supporter to Springbike. He was always ready to provide a seminar at club meetings on what was new in bicycle technology. He served as a board member in 1994. 
The Springbike Honor Sculpture is inscribed as follows: