Use your Springbike Membership benefits in RidewithGPS to find our routes, maps, and cue sheets.
Springbike Annual rides, along with other known area rides and events are listed on the Springbike Annual Ride Calendar Worksheet & the Springbike Cycling Calendar (easier to view).
Springbike Routes
Springbike routes may be accessed with your Springbike membership through RidewithGPS. Our routes files, which are included with your membership, in RidewithGPS include: the New Years Day, Superbowl, St Patrick's, Chili Ride, Dogwood, Queen City, Tour de Bass, and Fall Metric, and of course our old Monday, Tuesday, Wednesday, and Thursday night routes. Other annual area rides that we have done in the past, and may still be recurring, in our Ride with GPS membership files also included are the Tour de Crawdad (CCK), Red Ribbon Ride (RRR), Pancake Ride (PR), Juvenile Diabetes Poker Ride (JD), and BikeMS (MS).
Springbike Routes & Rides Notes
These are commonly used routes, on public roads for cyclists to hopefully meet and ride with others. Children should not ride without an adult and you must wear a helmet. Ride defensively and safely, and remember your actions reflect the club and all cyclists. There is no traffic control. Check out the Springbike Facebook page to see any scheduled rides that are upcoming.
Whether you are new to Springbike or a seasoned rider, we have included information here on various routes that are available.
Feel free to contact us on the Springbike Facebook page or on the Contact Us page.
Springbike Disclaimers
Our insurance requires you to be a member of the Springbike Bicycle Club to participate in our rides/events. Join today! Our insurance also requires all riders must wear a helmet while riding. You must show your membership card to participate in the rides. For information on joining Springbike Bicycle Club please visit our FAQ page or our membership page. There may be an additional entry fee for certain club rides when SAG ( Support and Gear, support transportation accompanying riders), rest stops, or food are provided. The majority of our rides are free with NO SAG provided. We stress you follow all laws, ride single file, be courteous to others, and help promote a positive cycling image in the community. Oh yeah, we do have FUN too.
Additional Disclaimer: There are no provisions for traffic control. These are public roads and although traffic is usually light, there has been no special provision for your safety and YOU RIDE AT YOUR OWN RISK. The club or individuals are providing information as to where many of our members ride. By participating in our club rides, you agree to wear a helmet and you agree to ride at your own risk.
All ride info above is subject to change. Springbike is not responsible for miscommunication and only provides this information as a service. Thank you.
Springbike Composite Ride Map
This composite map encompasses of all Springbike sponsored rides by throughout the Greater Springfield Metro Area. Download PDF.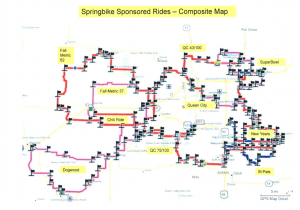 Springbike Annual Rides
Old Springbike Maintained Maps & GPX Files